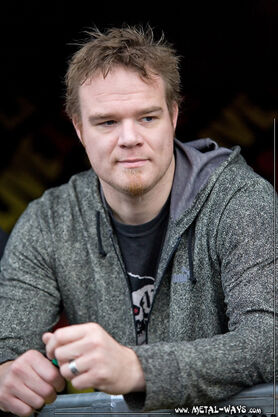 Martijn Spierenberg was born on January 30, 1975. He is the keyboardist for Within Temptation, of which he also co-writes the music and oversees the orchestral elements.
Work prior to Within Temptation
Edit
Spierenberg was also a member of Robert Westerholt's first band, The Circle. He left the band after Westerholt's departure, meaning he did not stick around to be a part of Voyage.
Within Temptation
Edit
Spierenberg joined Within Temptation after Martijn Westerholt, Robert's brother, was diagnosed with infectious mononucleosis shortly after the release of the band's second studio album, Mother Earth. He is responsible for co-writing the music for various songs, including 5 from The Heart of Everything: "The Cross", "Our Solemn Hour", "Hand of Sorrow", "Forgiven" and "The Truth Beneath the Rose". Spierenberg also handles the orchestral arrangments used by the band, and oversees the orchestra when the band are recording in the studio. He once stated that his most embarassing gig was his first show with Within Temptation. Due to his stage fright, Spierenberg forgot how to play half of the music.